Driving impact for Chicago and beyond
Enabling competitive edge for leading companies through sustainable software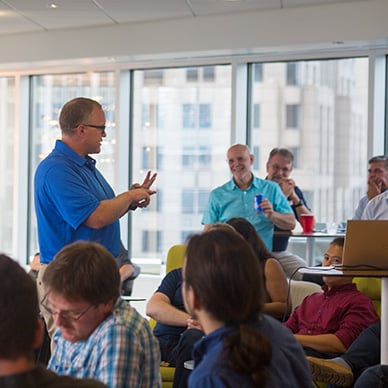 nvisia Chicago
Leader in Chicago Software Development & Digital Transformation Consulting
We've helped leading companies go through digital transformations for thirty years. Our long-standing tenure gives us a competitive advantage in the Chicago region. See why we are one of the best software companies in Chicago.
Meet members of the nvisia Chicago team
Helping you figure out next steps for your critical software development needs
Fun Facts
About our Chicago office
We're neighbors with the Sears (excuse us - Willis) Tower.
It's just a 2 minute walk from the Adams Street entrance to Union Station to our building.
We're also within 2 blocks of 10+ CTA transit stops.
In addition to having dozens of great restaurants in a small radius, a small army of food trucks park just down the street at lunch every day to spice things up.
Check out our
latest insights