Product Strategy + Development
Create Scale with a Best-In-Class Product Strategy and Development Team
Leading companies retain our teams for their additional critical projects, a testament to our ability to deliver and enable.
We develop a software product strategy that stands the test of time
Why choosing the right partner for bringing your product to reality is critical to your success
Bringing a full-cycle software product to life can make or break your competitive edge. Doing it on your own or partnering with the wrong external team can lead to unnecessary costs and wasted time. We know what it takes to develop a product that can impress users, scale effectively, and stand the test of time.
From concept to delivery, our product development teams partner with you to create customized, scalable software products, apps,and operational systems regardless of industry. Taking a human-centered approach, we provide end-to-end product development services - from product conceptualization and strategy to product design and engineering to implementation and modernization.
Hear why leading companies work with nvisia
Ivan Imana, CIO, World Travel
—
Our software product development solutions include:
Product Discovery & Strategy
We work side-by-side with your teams to define and refine your ideas by understanding real user problems. We then develop a roadmap for how to solve them.
Custom Application Development
Accelerate your growth and improve efficiency with custom application development. Since 1991, we've been solving companies tough software challenges through custom application development.
Mobile App Development
Our design-led approach to product definition, user experience strategy, and custom mobile app development, ensures app is successful. Our team of experts have significant experience building the most complex mobile apps.
Continuous Product Development, Management, and Maintenance Training
Delivering quick and sustainable changes and updates into the hands of your users is critical to driving business value, especially in a complex production environment or system. Our team can help you improve your time-to-market strategy while enhancing your software quality. Together, let's set your business apart from the competition.
"Our partnership with nvisia has resulted in some of [our] best recent product offerings. Their model of small teams of technical veterans working side-by-side with client staff was a great fit for us. Our partnership has allowed us to tackle and deliver some of our most challenging projects."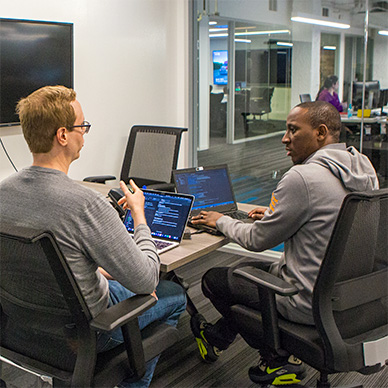 What an nvisia
product development partnership

will bring to your team
Unparalleled experience: We hire only senior-level consultants with a deep understanding of the full product development life cycle. Our consultants have worked together for years and leverage each other's deep knowledge set.
Unique exposure: Having worked with hundreds of companies, our experience is invaluable as we apply best practices in software product development and delivery.
Delivering on time and on budget: Our teams can handle the most complicated challenges, allowing you to avoid uneccesary headaches and saving you valuable time and money.
Mentorship: We take an agile-first approach and will help your team improve its organizational effectiveness. Our goal is to up-skill your team for you to take ownership of your product after our work is completed.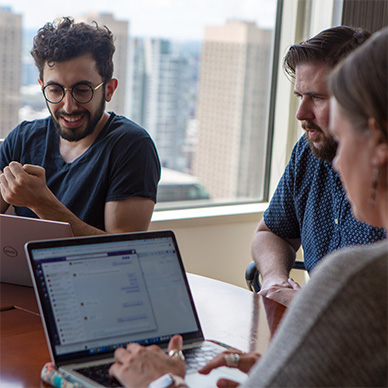 Accuity - Driving results through a new payment software platform
Featured Case Study
Accuity needed to partner with an agile organization with IT talent, project management expertise, and aptitude for collaboration and innovation in order to support thier platform. Together, we collaborated to compile legacy data from each system and reconcile it into a single MarkLogic NoSQL data store that would service new and existing applications. Simultaneously, we worked closely with Accuity to build an entirely new payment software platform built on the new NoSQL data base.
Taking a
user-centric

approach to everything we do
Balancing Practicality with Product Vision
Set a Vision
By defining long-term visions based on your user needs and desires, we map out the journey of a product that excels in functionality and puts the user at the center of the design. Old models of developing roadmaps are based on assumed requirements. Before we even consider a long-term plan, we begin by taking a close look at what the product needs to be.
Lay out the Definition and Roadmap
We assess your end-user needs in fine detail and then lay out the requirements and features to address those needs. You will see high-fidelity mockups of what your future product will look like, avoiding wasted resources and saving you time and energy.
Product Delivery
Once the roadmap is established, we keep your product development on track to ensure the execution matches the vision and meets each defined need. From conceptualization to MVP, we nurture it to a fully realized solution that is elegant and destined to impress.