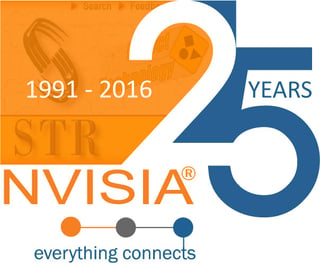 NVISIA CELEBRATES 25 YEARS!
Thanks for helping us reach our silver anniversary! We're proud of all the connections we've made with clients, software and brilliant people. Looking ahead, we'll continue to pioneer innovative technologies, use them to build solutions that adapt to business needs and then teach organizations how to adopt them.
We started back on July 15th, 1991 as STR and soon established a reputation as a go-to firm for developing enterprise solutions with leading edge technology. As innovators enabling the early adoption of the corporate LANs, our founders came to understand the value of distributed computing for corporate clients. Having served Fortune 500 clients, we were able to appreciate an emerging paradox: adding competitive advantage with custom enterprise software while at the same time managing the risks associated with new technology. Subsequently, we realized how Object-Oriented Technology, coupled with an iterative development process provided an effective means to quickly deliver applications and manage risk. This approach became the foundation for our ConnectedDelivery® services.
Please visit our anniversary page - http://www.nvisia.com/25 and keep up to date on the latest anniversary happenings.
ABOUT NVISIA
NVISIA is a software development partner with offices in downtown Chicago and Milwaukee. Our clients look for the rapid delivery of critical software that works in concert with existing business processes, systems and data. Further, they have come to understand that software product innovation requires collaboration, craftsmanship and engineering, but also creativity, skill and a deep understanding of emerging technologies to deliver a solid solution fast.
Our ConnectedDelivery® approach emphasizes collaboration and fosters mentoring, as we work side-by-side our client's staff on a cross-functional team. Our pragmatic approach to incrementally introducing change will ensure your team adapts to the new ways and can maintain the momentum independently after NVISIA leaves.
We developed our ConnectedDelivery® services as a proven pattern for connecting systems and data with business objectives, and quickly delivering a business-aligned solution. It becomes the client's road map for building your highly- integrated software platforms where we combine our 25 years of expertise with the agility of a start-up. As a result, you get accelerated delivery of important software, with leading technologies, and a high degree of integration with existing code, systems and infrastructure.