CHICAGO---March 30, 2018 Software firm NVISIA announced a new partnership with technology workforce development nonprofit i.c.stars. The sponsorship will support the training program that is building the next generation of technology talent, while offering opportunities to underserved young adults in Chicago and Milwaukee.

"NVISIA was founded over 25 years ago in Chicago and we've been dedicated to helping our local community whenever possible," said NVISIA President Shaun Lovick. "We see i.c.stars as a great way to utilize our combined experience and talent in a program that provides real benefit to its participants."
In addition to financial support, the partnership includes opportunities for NVISIA employees to volunteer at i.c.stars. Shaun Lovick is scheduled to speak to program participants at High Tea on April 23rd, and Vice President of Business Development Mark Daniels will speak in May.
Executives from NVISIA will also attend i.c.stars Chicago's quarterly thought leadership events, including the May 11th cyber security conference, which will feature seasoned technologists as well as i.c.stars participants.
NVISIA has also invited the newly launched i.c.stars Milwaukee team to be part of their Milwaukee Digital Platform conference on May 17th.
"We've known about i.c.stars for several years and we now feel that we are at a point where we can partner with the organization in an impactful way," said Lovick.

About i.c.stars
Formed in 1999, Inner-City Computer Stars Foundation (i.c.stars) is a Chicago-based nonprofit organization and social enterprise that prepares young adults for technology careers and community leadership. Using project-based learning and full-immersion teaching, i.c.stars has trained more than 400 individuals and places 90 percent of qualified graduates in jobs.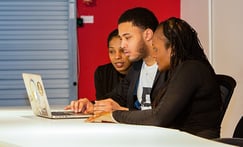 Participants see their annual earnings increase by an average of 400 percent as a result of the program. In 2016, i.c.stars opened an affiliate in Columbus, Ohio, and in 2018, i.c.stars opened in Milwaukee. More at http://www.icstars.org/
About NVISIA
NVISIA is an enterprise software development partner with over two decades of expertise developing highly integrated software platforms for market-leading corporations. NVISIA excels at creatively connecting people, process, and technology to develop long-term business platforms that can be confidently maintained and extended by our clients' internal IT teams.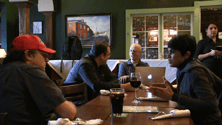 NVISIA understands the challenges of bring together business and IT teams to quickly deliver strategic platforms, while giving them comfort and confidence in technology that's new to their organizations.