As HIMSS 2017 winds down, and 45,000 visitors make their way home from Orlando I think back to the 4 days of educational sessions, thousands of steps across the exhibitor floor, countless conversations with colleagues, and am left with several key takeaways …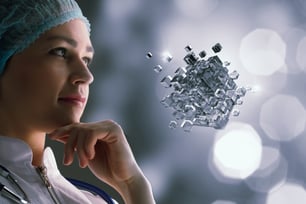 Listening to presenters and vendors, the message is clear that the transition to value based care is real and not going away. MACRA was passed as a bi-partisan legislation and all indications suggest the legislation will continue forward intact. Presentations from early implementers of bundled payments communicated that results demonstrate the ability to provide quality care while reducing costs even though there are still care management and technical challenges to implementation. The 21st Century Cure Act, with a mission to "help modernize and personalize health care, encourage greater innovation, support research, and streamline the system" also passed with bipartisan support. Most notably for integrators, is a clause that mandates EHR's to provide access to patient data via API's. This legislation will finally put to rest one of the greatest barriers to innovation that being data blocking – and open the door to endless new possibilities.
A recurring technical challenge in the transition to value based care is the need for system interoperability. The integration boundary no longer encircles just the hospital system, it now includes the entire spectrum of patient care including: nursing homes, home health, social and behavioral. FHIR has stepped up to the plate in response to the interoperability need. An HL7 developed standard, based on the modern REST protocol, FHIR contains several well defined "healthcare" resources that can be used to send or receive data between the various systems used to support the Episode of Care. It is clear that the specification has moved along the adoption curve, with support from projects like Argonaut, as well as the major EHR members: Epic, Cerner, Meditech, and Allscripts. Google has also joined the party, announcing that it will provide cloud services for the FHIR ecosystem. Developer support is strong with organizations providing starter libraries, sandbox environments, testing tools along with a slew of developer meetups, hackathons, connect-o-thons and cash award challenges from the ONC.
As systems move towards an open architecture, the market is starting to see the enormous opportunities that exist to truly empower the patient, as well as the care community. Precision medicine, remote monitoring, care coordination, and patient engagement are just some areas that are beginning to emerge, putting pressure on the healthcare's adoption of API based solutions. API Management solutions such as MuleSoft, Apigee and WSO2 will certainly contribute to the healthcare technical environment by providing the capabilities to quickly and effortlessly create, govern and securely expose an organizations API's to the outside world.
As healthcare technology continues in the direction of open APIs, a year from now expect to hear less about interoperability and access to data, and more on how vendors are utilizing a variety API's to create the innovative solutions that enable better patient care and improved outcomes. I'm really looking forward to HIMSS 2018!