WHY DEVOPS
In many organizations, Development, QA and Operations are at odds, each with separate concerns for a product. Development is frustrated that code they rushed to deliver has to wait to go to production. From the QA and Ops perspectives, Development's rushing only results in unstable software, longer test cycles and long-term headaches. DevOps aims to align the goals of these groups so that everyone is focused on quickly delivering new products and features to production while improving quality and reliability. It starts with pulling Operations and QA skills into cross-functional development teams. These teams, applying DevOps disciplines, can automate each task between code leaving a developer's fingertips and being deployed to a stable production server.
EXPANDING ON OUR AGILE DEVELOPMENT EXPERIENCE
There's no point in accelerating bad development practices. NVISIA has a long history of introducing agile engineering discipline, including build automation, unit testing, continuous integration, defect tracking and test automation. We have transformed legacy systems into modern, maintainable architectures. Whatever challenges you might have in automating ops concerns, we can move you past them.
START FROM A SOLID FOUNDATION
To get the most out of a DevOps initiative, there must be a solid foundation of development process and architecture. NVISIA has deep experience in both Agile development and Application Architecture, and has a long history of mentoring development teams in both disciplines. This enables us to work alongside your teams to close process and architecture gaps to help you get the most benefit out of the DevOps discipline.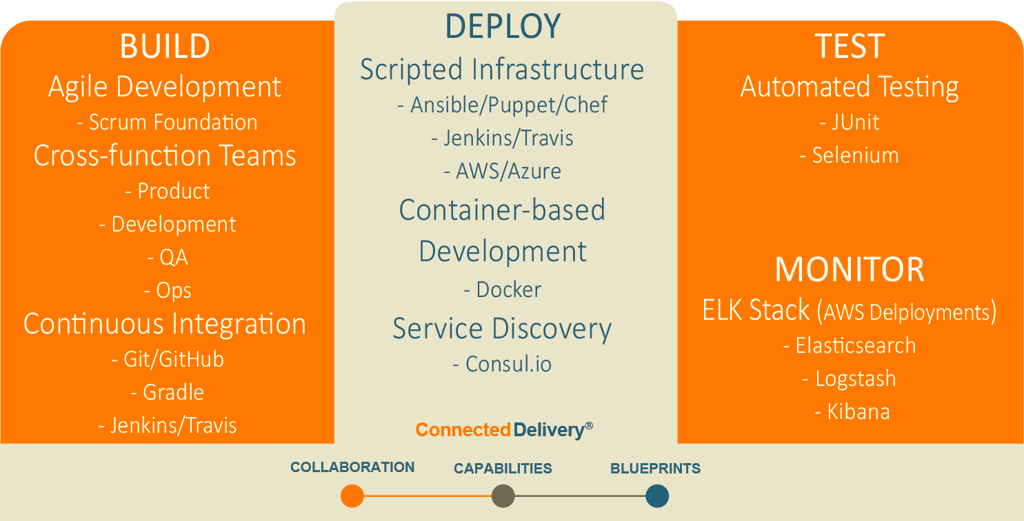 WORKING WITH NVISIA
DevOps is a discipline, not a project. It requires a mindset shift within your team. NVISIA's ConnectedDelivery® methodology emphasizes collaboration and will foster this change, as we work side-by-side with your staff on a cross-functional team. Our pragmatic approach to incrementally introducing innovation will ensure your team adapts to the new ways and can maintain the process after NVISIA leaves.
NVISIA's ConnectedDelivery® services are a proven pattern for connecting systems and data with business objectives, and quickly delivering a business-aligned solution. It's the roadmap for building your highly- integrated software platforms where we combine our 25 years of expertise with the agility of a start-up. As a result, you get accelerated delivery of important software, with leading technologies, and a high degree of integration with existing code, systems and infrastructure.
VALIDATED BLUEPRINTS IN 2 to 4 WEEKS
Sometimes getting started is the hardest part. NVISIA's experts utilize our proven ConnectedDelivery® Blueprint process to align your stakeholders, developers, QA and operations staff. Our process yields an initial design and prioritized DevOps Backlog in just two weeks.
NVISIA DevOps